Kindergarten Round Up 2021 Information!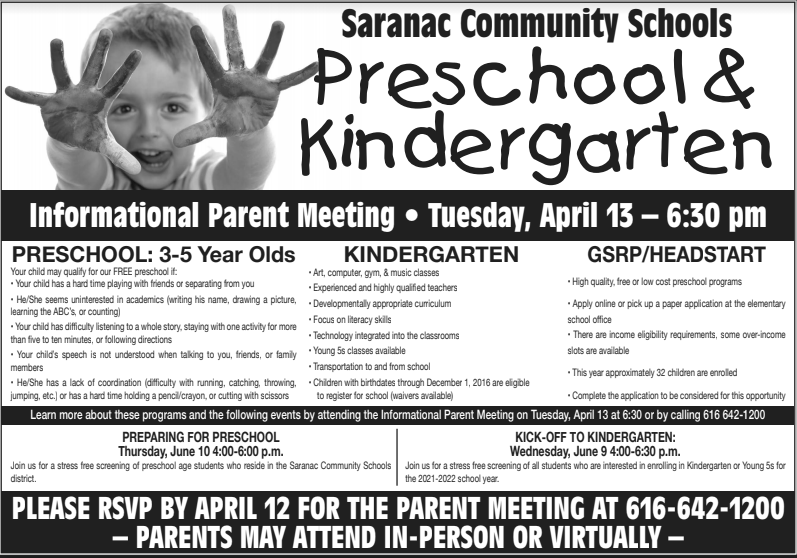 Parent and students During a construction project between Ionia and Saranac a power line and our fiber internet connection were severed. Consumer's Power and our internet provider are working to re-connect both power and internet. We have not been provided a restoration yet. We will keep our families updated. Remote learners, we will connect with you as soon as we can.

Internet connection and phone services have been lost. We are currently investigating as to the cause.
The school has earned our next March is Reading month reward! Tomorrow will be PJ Day. Students can wear PJs, bring in flashlight lights, blankets and stuffed animals to spend the day with them. Congratulations!
In honor of  March Is Reading Month  we are hosting a Virtual Family Reading Night today, March 10th!  Please respond to this post or tag us @SaranacElementary and share your students first name and what you are reading together!  You can send pictures to 
catrellmik@scs-staff.org
 and I will post some of them to our school Facebook Page.  Let's try to fill up everyone's feeds with pictures of our kids reading!  
Monday is Wild Dress Up Day! Students have earned the first school wide goal of 900 AR Points! Students and staff can dress up in their favorite jungle or animal print. They can also dress up in Wild/Mismatched Styles or have wild hair. You may also bring in a stuffed animal to spend the day with you.
Dear Saranac Elementary Families, Sign up for a scheduled conference with your child(ren) teacher(s) using the
https://www.myctime.com/saranac
Conferences will be available to sign-up today at 3:00 PM. Once again all conferences will be virtual. You will either be able to join through phone or through Google Meets Video Conferencing . Each conference slot is ten minutes. Please understand that many teachers will have conferences scheduled back-to-back. It will be important to be punctual in joining the conference at the scheduled time. If you call or try to join the conference before your scheduled time you will need to wait until the earlier conference has finished. Teachers have been instructed to set a timer to help remind them to stay on schedule as well. If you need assistance registering for conferences please contact our office at 616-642-1200. Sincerely, Mike Catrell & Sara Serne
Do you have a special talent you'd like to share with our school? If you do, please consider trying out for the Saranac Star Wars. Trying out means sending a 30 second video of your talent to
sanderssta@scs-staff.org
or any Specials Teacher by MARCH 12. All students and staff are welcome to audition. Can you bake? Make a video! Fish? Make a video! Dribble? Make a video! Dance? Make a video and try out today! For more information and to register for the talent show visit
https://forms.gle/atzpDWE5ztk9eF7s7
Dear Saranac Elementary Families, March has officially arrived which means our school will really put the focus on Reading! Every March we pick a theme that we plan multiple activities around, this year our theme is, "Wild About Reading!" The most important thing you can do to support your child is to help them read! It doesn't matter what grade level your child is in, there is always something you can help them do. Below are a few of the activities that we will have taking place in the school: D.E.A.R. Time Through the month we will play the song, "The Lion Sleeps Tonight." When that song plays, we Drop Everything And Read. TRAVELING Jungle Animals Each grade level will be competing for a traveling Jungle Animal to visit for the day. Each morning, an announcement will be made letting the school know which class from each grade level earned the most A.R. points the day before. Each of the winning classes will report to "The Zoo" to select a pet for the day. (PreK-K will be done weekly.) Winning classes will also receive a certificate to post. Facebook Family Reading Night This will be held Wednesday, March 10th. There will be A Facebook Post that encourages families to post books they are reading at home. Poster Contest: The Better Together For Saranac Group has donated $150 in gift cards. $20 gift cards will be awarded to the top entry from each grade level. The top winner will be given the additional $10. Posters are due Tuesday, March 30th. Please include name and grade level on posters. Cereal Box Collection We are collecting cereal boxes all month. We will donate these boxes to our Saranac Food Pantry. All boxes need to be turned in to classrooms by March 26th. Below you will find school-wide goals 900 AR Points Wild Dress Up Day! Students and staff can dress up in their favorite jungle or animal print. They can also dress up in Wild/Mismatched Styles or have wild hair. You may also bring in a stuffed animal to spend the day with you. 1,600 AR Points Jungle juice/Bug Juice and animal crackers The PTSO will purchase juice boxes and animal crackers for our students. 2,300 AR Points Night Time Jungle Expedition -This will be a PJ Day. Students can also bring in flashlight lights, blankets and stuffed animals to spend the day with them. 3,000 AR Points Jungle MOVIES - Once the reward has been earned, we will set a schedule. This will take place in the classrooms this year. We will show students jungle themed movies. Happy Reading! Mike Catrell & Sara Serne
Students at the elementary have been celebrating our Kindness Spirit Week. Today students wore read to help them to remember to be helpful to one another. On Thursday students will wear blue to promote encouraging one another.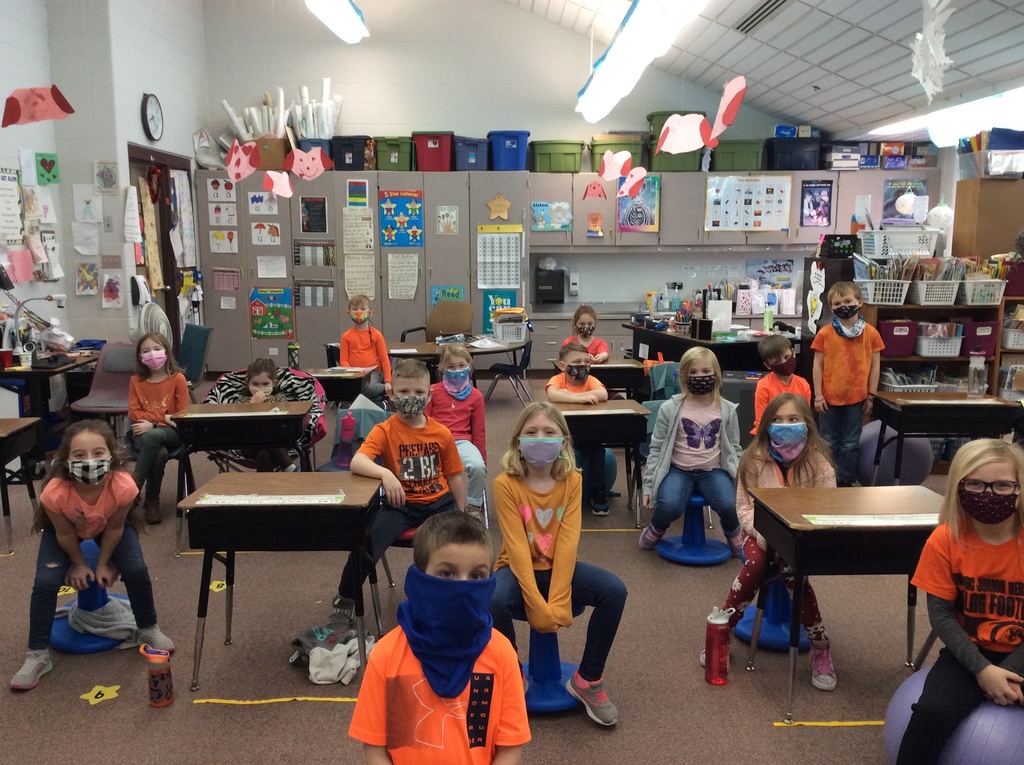 Saranac Community Schools will be closed today Monday, February 1st.
Introducing the first ever school-wide Saranac Star's Wars. Please see the link below to read the rules and to register your student in the Talent show.
http://bit.ly/SStarWars
Due to the snow day on Tuesday we need to make a lunch change. Thursday's lunch will be Hot ham & cheese on a bun, baked beans and mixed fruit.
Good Morning Saranac Elementary Families, We have been receiving some questions regarding snow days. The two most frequent questions are: 1. How will we be notified if there is a school cancelation or delay? We are no longer using the Remind App. We will send out a text to the contact information that we have listed in Skyward. We also use local media outlets such as WOOD TV, Fox 17, WZZM and WION. Many of these media outlets do have a messaging system that you can receive text notifications from if you sign up. 2. Will students have work expectations to complete on a snow day? No, schools build in 6 snow days every year into our school calendar. If we do have a snow day there will be no expectations of work to complete for school. Thanks everyone! Mike Catrell
Thank you! We can't say it enough that we love being part of this community! Your generosity through the donations of the sleds is very much appreciated by the staff and the students. Now all we need is a little bit of snow!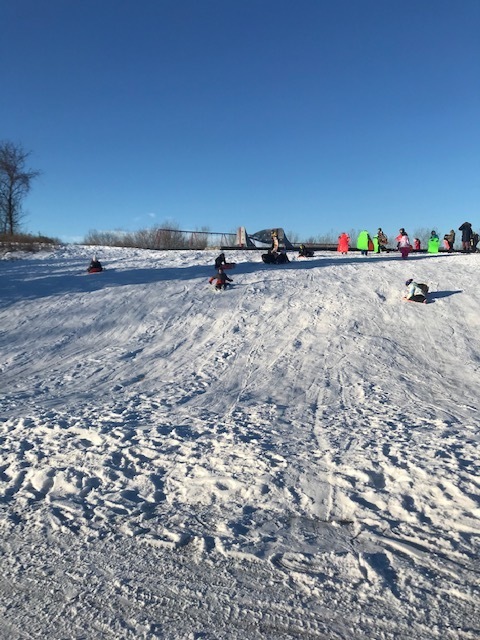 Families, The grant for the lunch program has been extended through the end of the school year. This means that for the remainder of the year all students will have not have to pay for lunch.
Saranac Elementary is currently in need of substitutes to work directly with students who have a specialized need and require one-on-one support. We are also continue to need recess and lunch supervisors on a substitute need. If you are interested visit out website and there is a link to apply. All of these positions are paid through the ISD, but you will only be working for Saranac Schools.
https://www.saranac.k12.mi.us/page/subtitutes-needed
Thank You!!! Our school raised $1378.09 through the door decorating competition. All of that money went straight to the Saranac Food Pantry along with the donations were collected when Santa visited! If you are a family in need of assistance please visit the food pantry at the Saranac Community Church.
Google has restored most of their services. There may still be a few issues with their platform, but overall it should be working. Google issued a statement saying there would be no more updates on this outage.
Saranac Community Schools Drive by Santa Event, this Sunday Night!! If you would like your children to see Santa please drive up to the elementary Sunday evening between 5:30 - 7:00 pm. This is a drive through event only. You cannot exit your vehicle. It will be quick, but your kids will get to see Santa and Mrs. Claus LIVE and in person!