Students in Mr. Winsor's Intervention Elective creating their own fishing rods!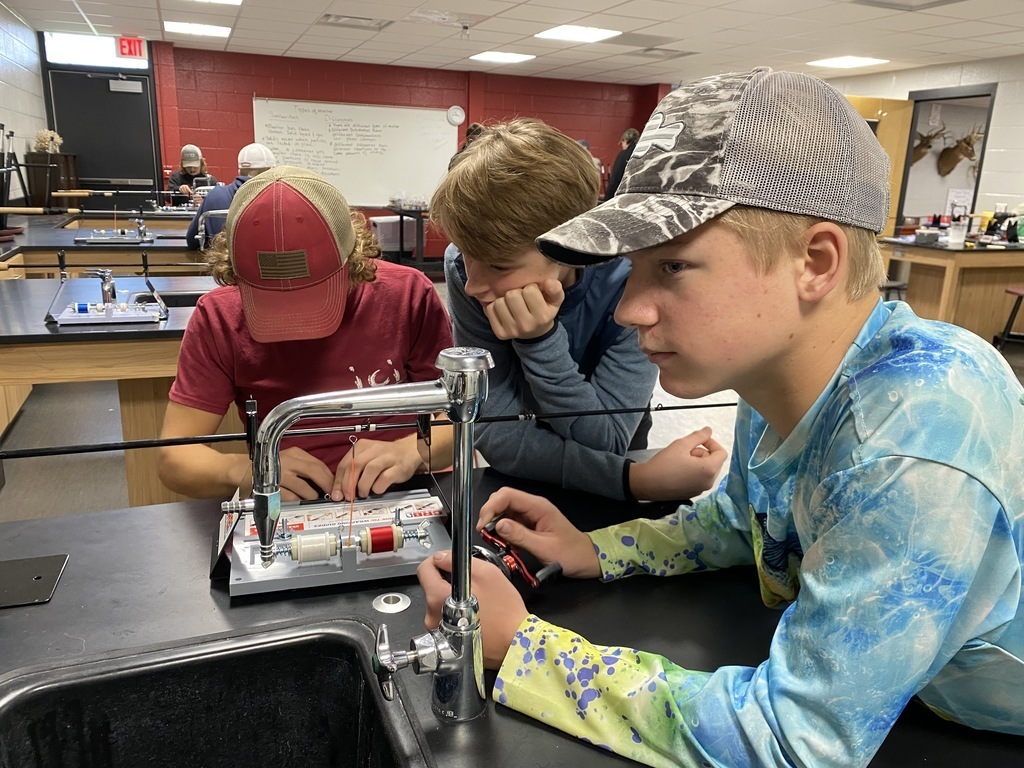 Wonderful job today by our JSH Drama studnets and Director, Ms. Studer, performing "10 Ways to Survive the Zombie Apocalypse!"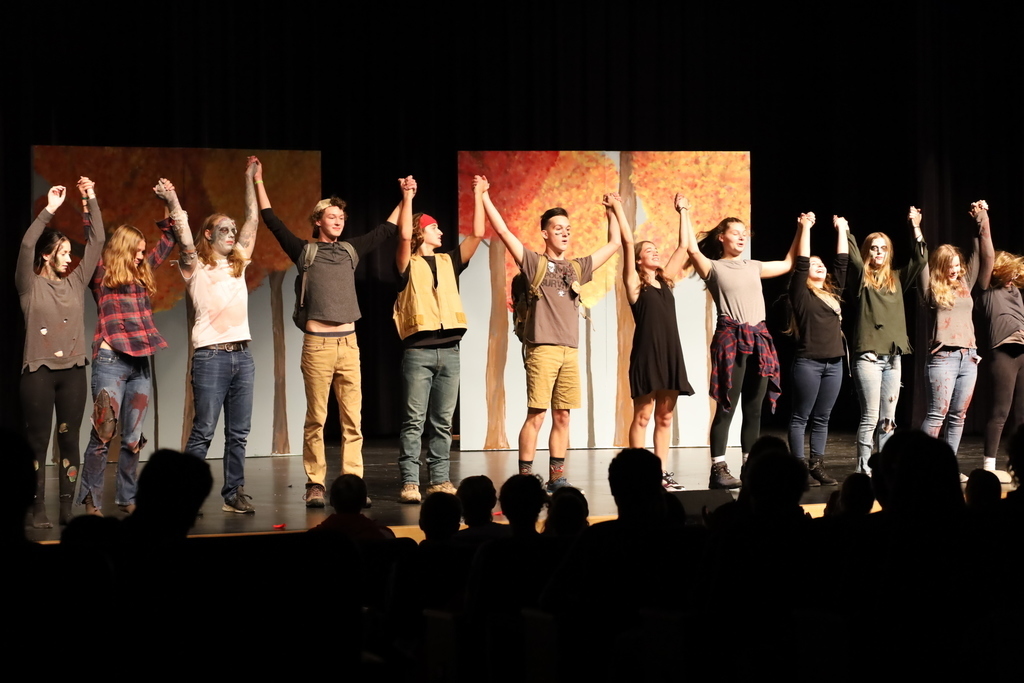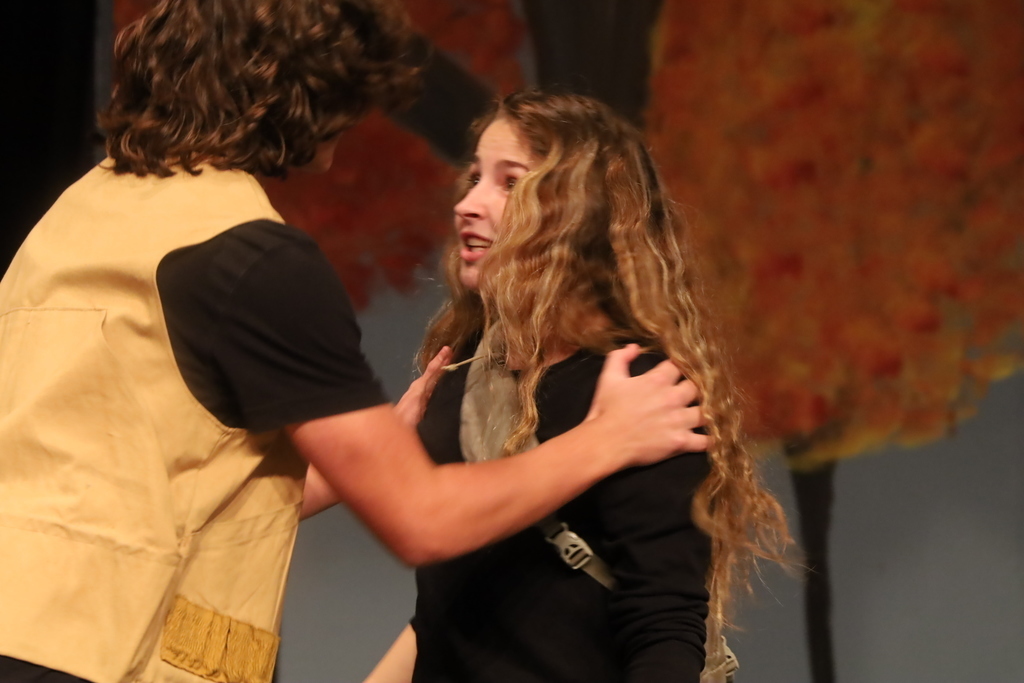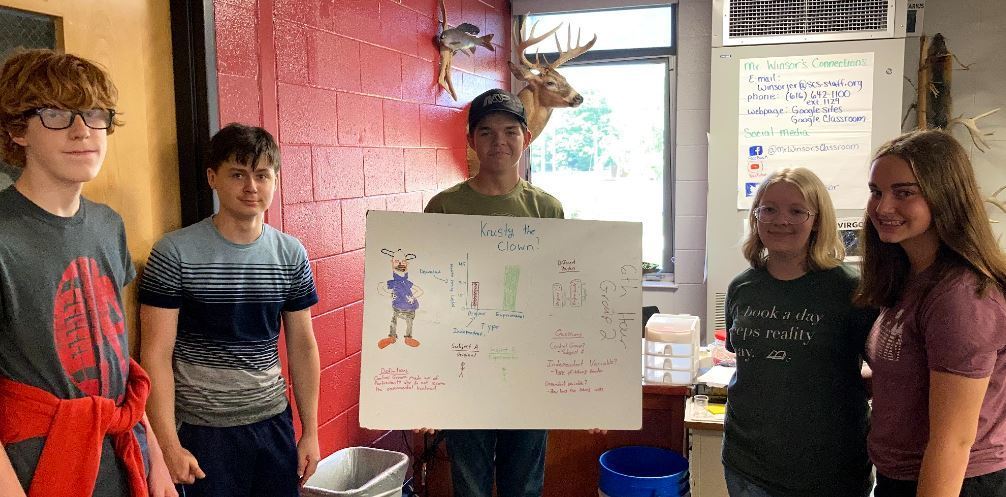 Mrs. Dahms' Food Science class spiced up Spirit Week today with their annual Salsa Contest. Students created and marketed their own salsa. Thank you to all of the staff taste-testers!

Congratulations, Seniors! Four years of Powder Puff... undefeated!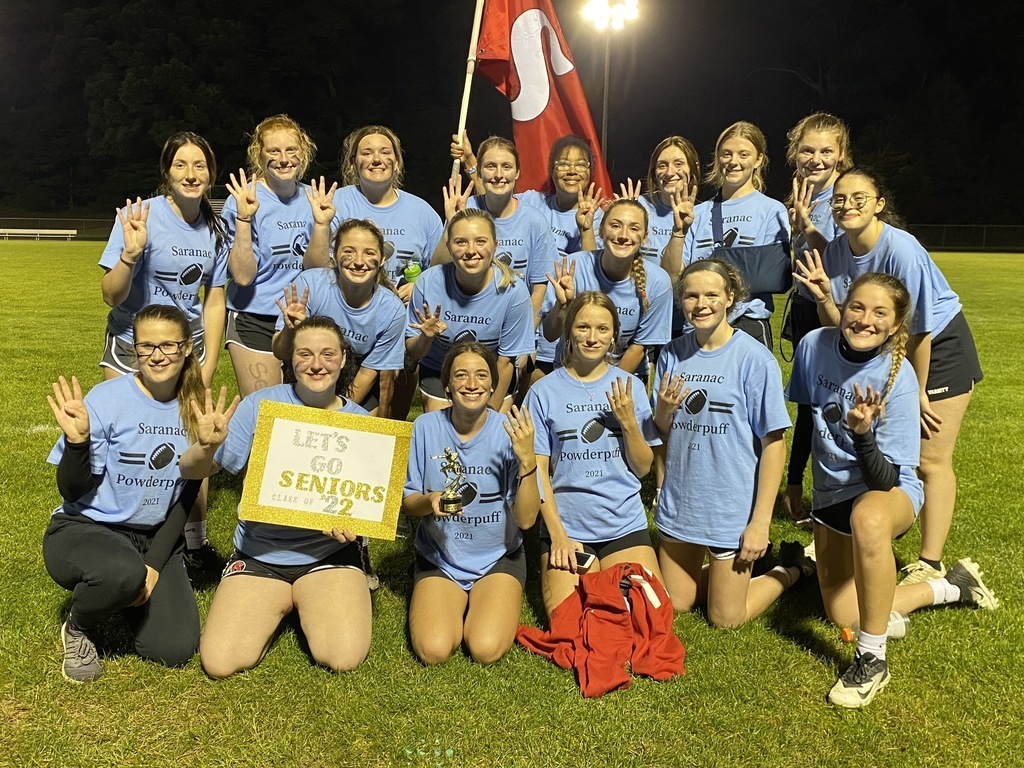 Congrats, 2021 HoCo Court! Seniors-Cam Jackson, Megan Chipman, Paigelyn Guernsey, Natalie Olsen, Chris Orman, Garrett Foster, Parker Edwards & Logan Wood Juniors-Maddy Hesche/Cody Kuiper & Elijah Powell Sophomores-Alex Peterson/Maddie Trahan Freshmen-Leah Wernet/Colten Goff

Thank you to the high school students who who joined us yesterday for the first meeting of the Spirit Club for the 21-22 school year. This is a student-led group that promotes school spirit by planning events, themes and activities throughout the year. The group meets periodically and all 9-12th grade students are welcome to participate. Students with questions should contact seniors Megan Chipman or Paigelyn Guernsey.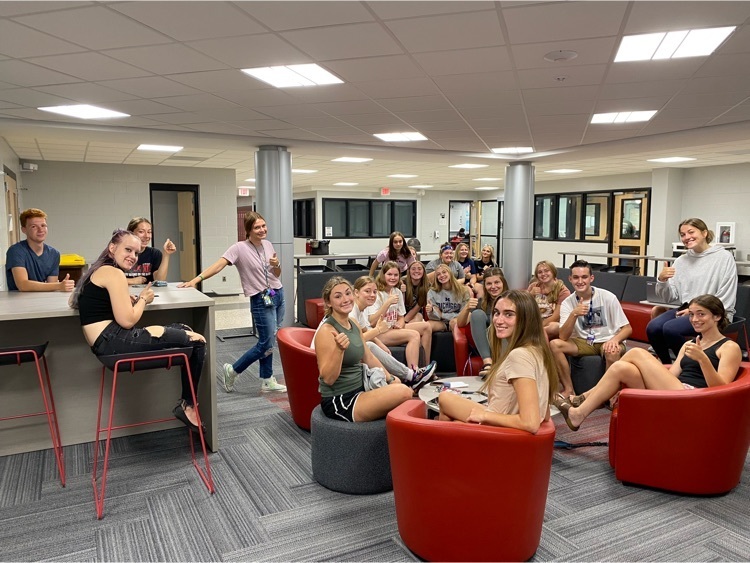 Mr. Stauffer and the high school marching band enjoyed a great week of practice and comraderie this past week at "Band Camp." Highlights included a giant slip and slide, a visit from SFD and "spirit week" themed days!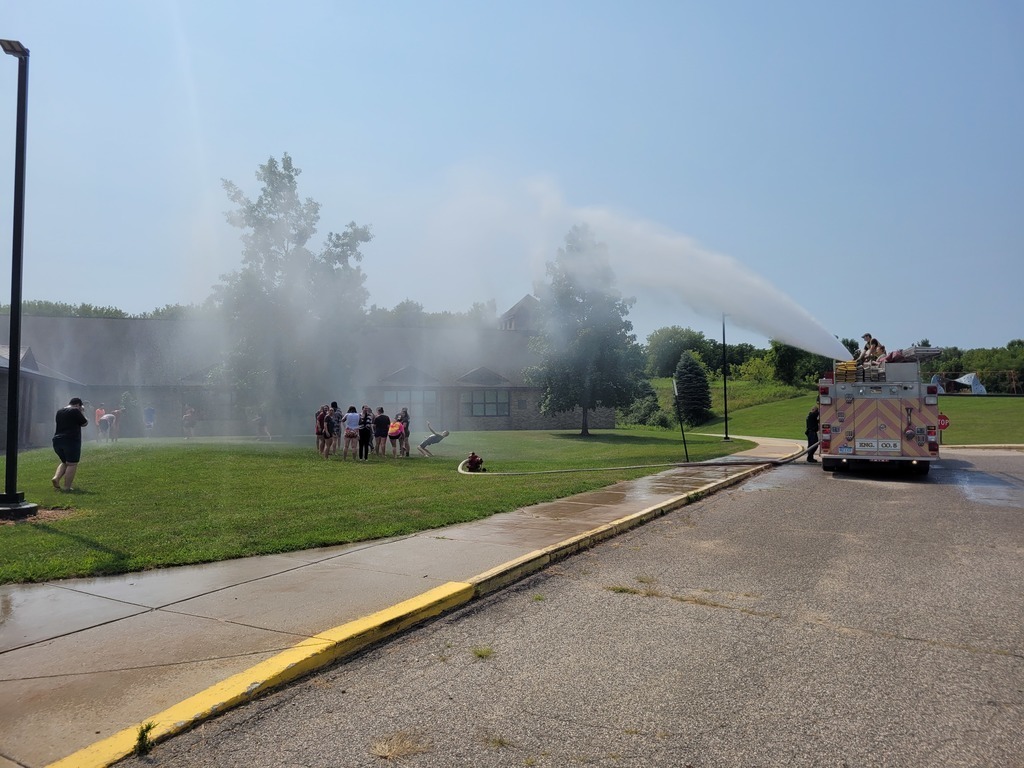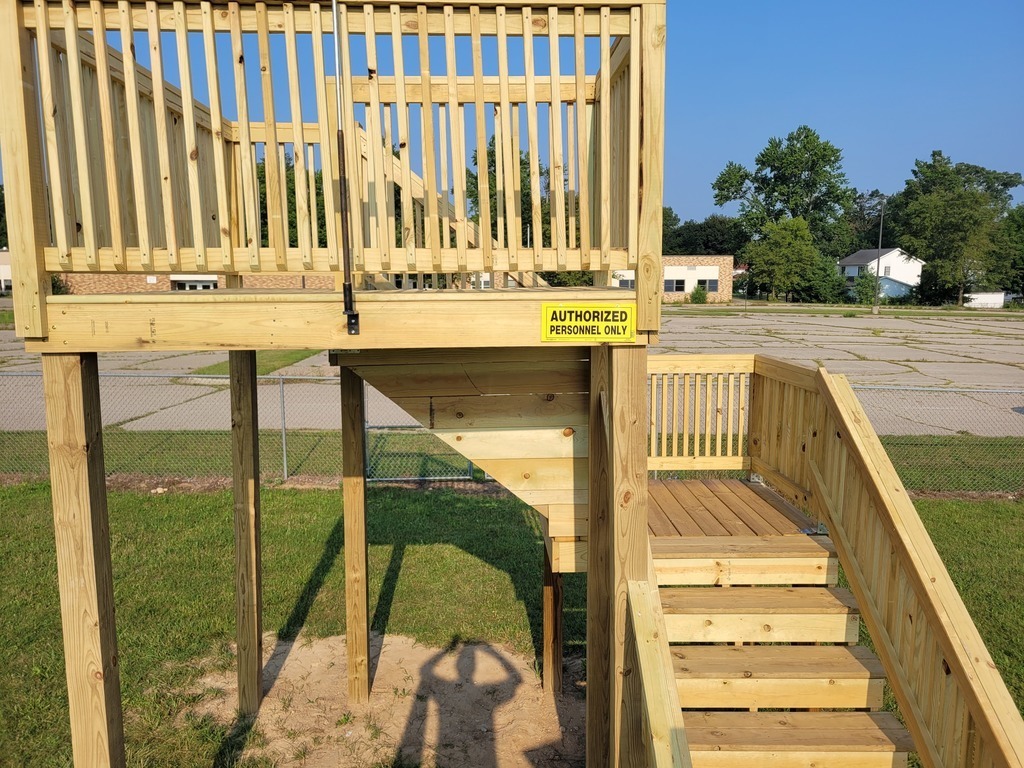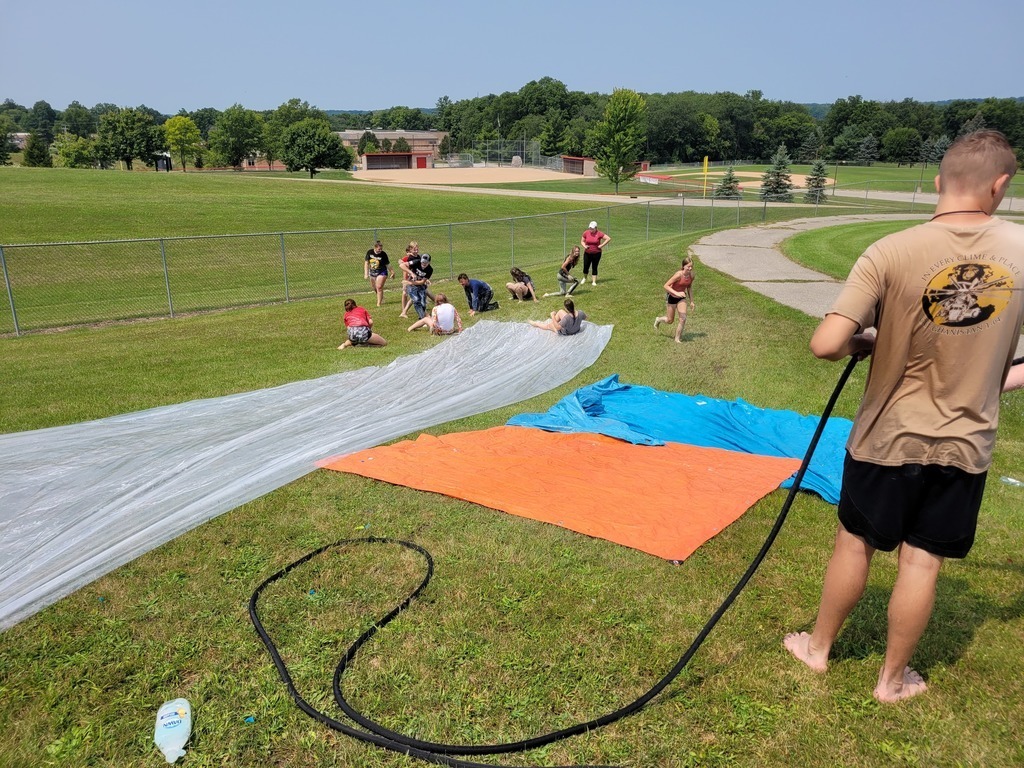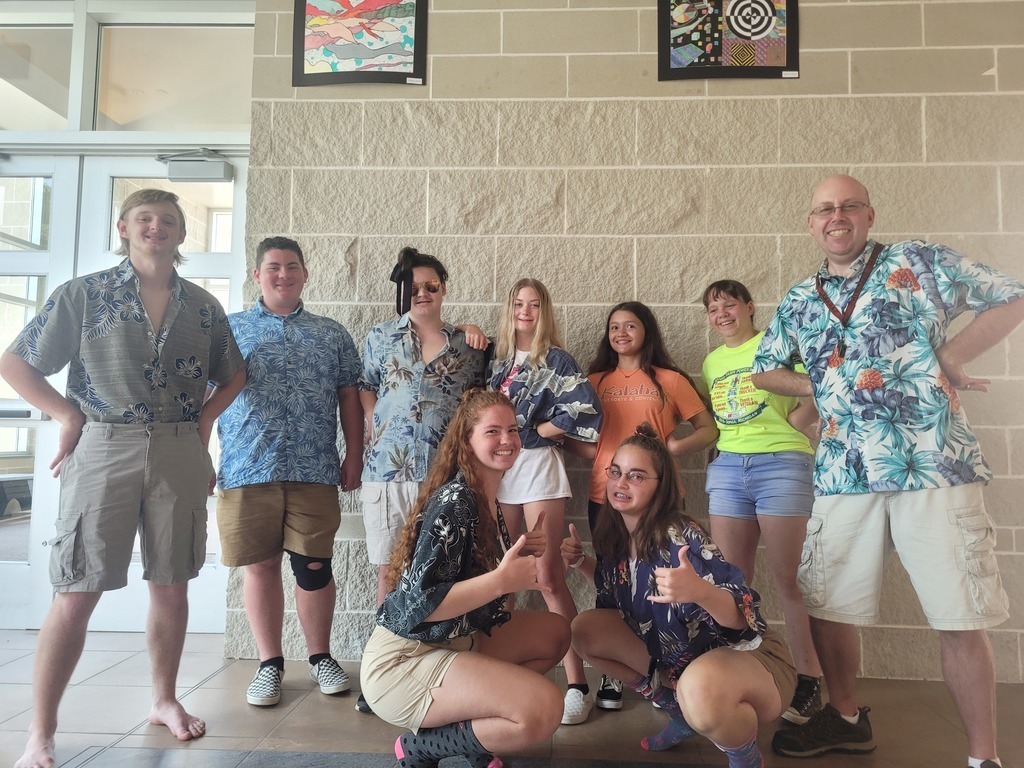 The Board of Education is seeking input regarding the mascot. You are encouraged to fill out the survey under the News Update.

SCS will be offering athletic physicals for all Saranac student-athletes on Friday, July 9th from 12:00 PM to 2:00 PM in the JSH Cafeteria for $20.00 per athlete. Athletes in grades 7-12 will be required to have a sports physical dated April 15, 2021 or later on file, using the MHSAA physical form, in order to participate in a school-sponsored or club sport during the 2021-22 school year. Those participating in youth football/cheer typically need this, as well. Students may not begin official practices or tryouts without this completed form. To find the PDF link for the form please go to our websites Menu and look under "Departments" for the "Athletics" page. It is labeled as "Physical Form."

Please read the following letter in regards to a Work at Home Wednesday this upcoming week. A larger image is available under the COVID Resources page.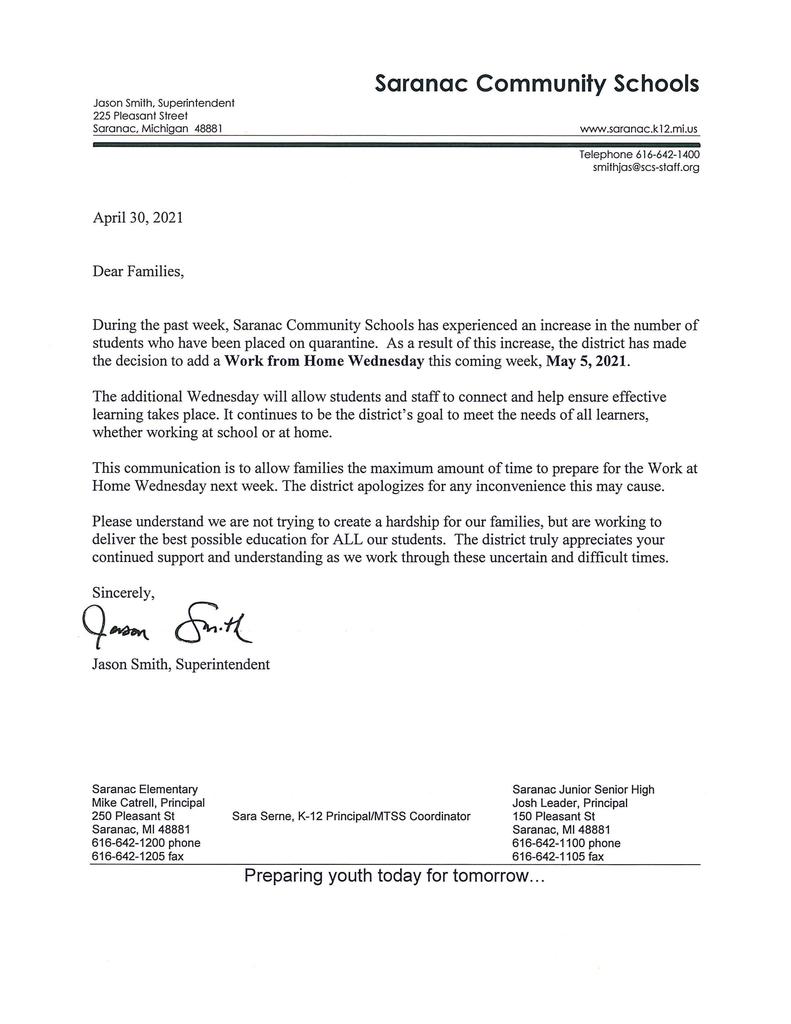 Please read the following letter in regards to a Work at Home Wednesday this upcoming week.

Incoming 7th Grade orientation will take place Monday, May 24th. 5:30 PM - Building Tour for Students with last names A-L 6:00 PM - Presentations for all 6th graders/parents in auditorium 7:00 PM - Building Tour for Students with last names M-Z

Parent and students During a construction project between Ionia and Saranac a power line and our fiber internet connection were severed. Consumer's Power and our internet provider are working to re-connect both power and internet. We have not been provided a restoration yet. We will keep our families updated. Remote learners, we will connect with you as soon as we can.

Internet connection and phone services have been lost. We are currently investigating as to the cause.

The JSH would like to welcome Mr. Noah Macomber, who is joining our staff as a teacher of special education. Mr. Macomber is a product of Grand Valley State University and we are excited to have him on staff!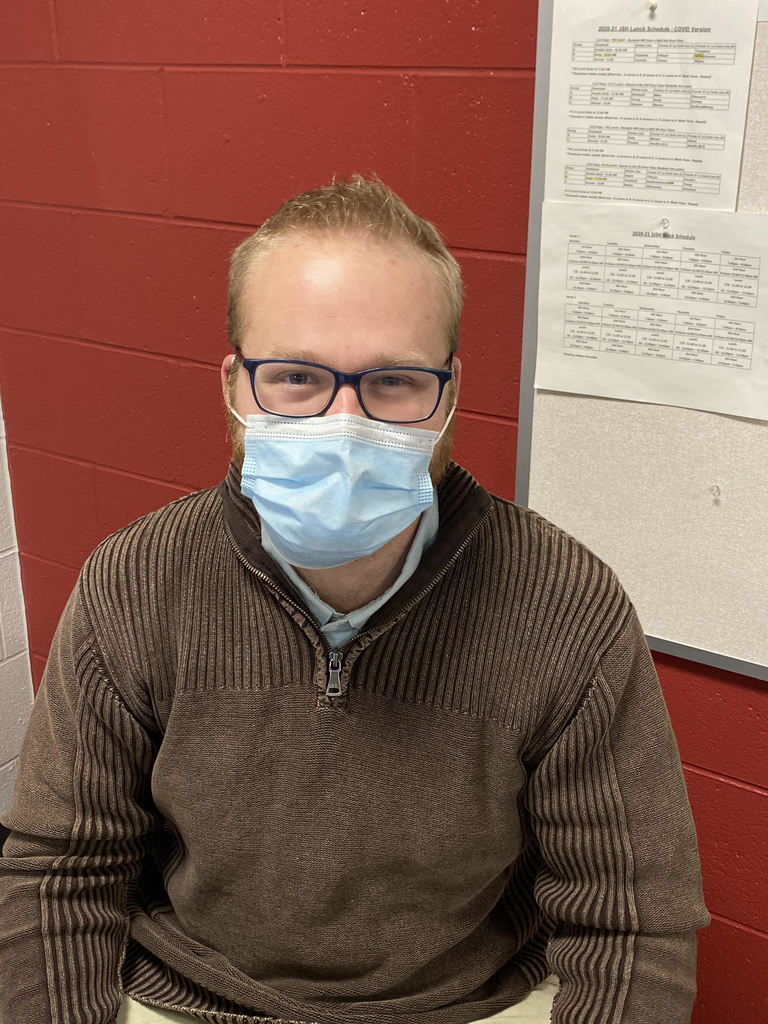 Congratultions to the Men's and Women's Cross Country Team as they prepare for their Zoom Awards Ceremony after a very successful season. Coaches Mr. and Mrs. Smith have your gift bags all ready to be dropped off, but do not open until the ceremony!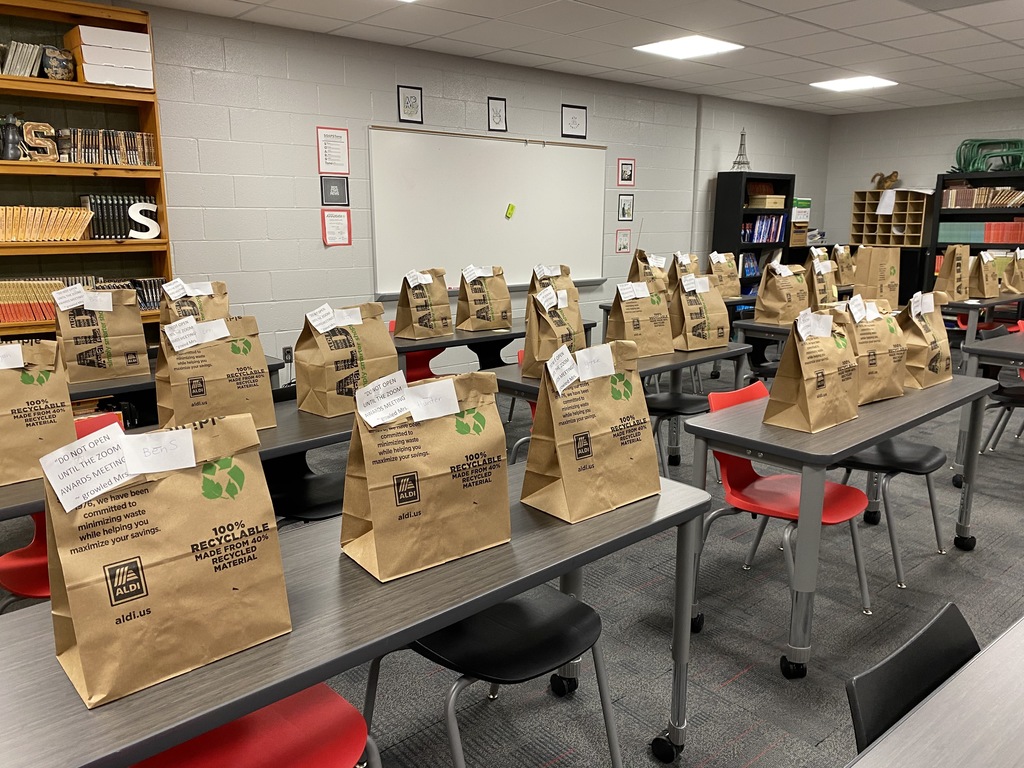 Congrats to our Cross-Country runners on their performance in the state finals. We are so very proud of you!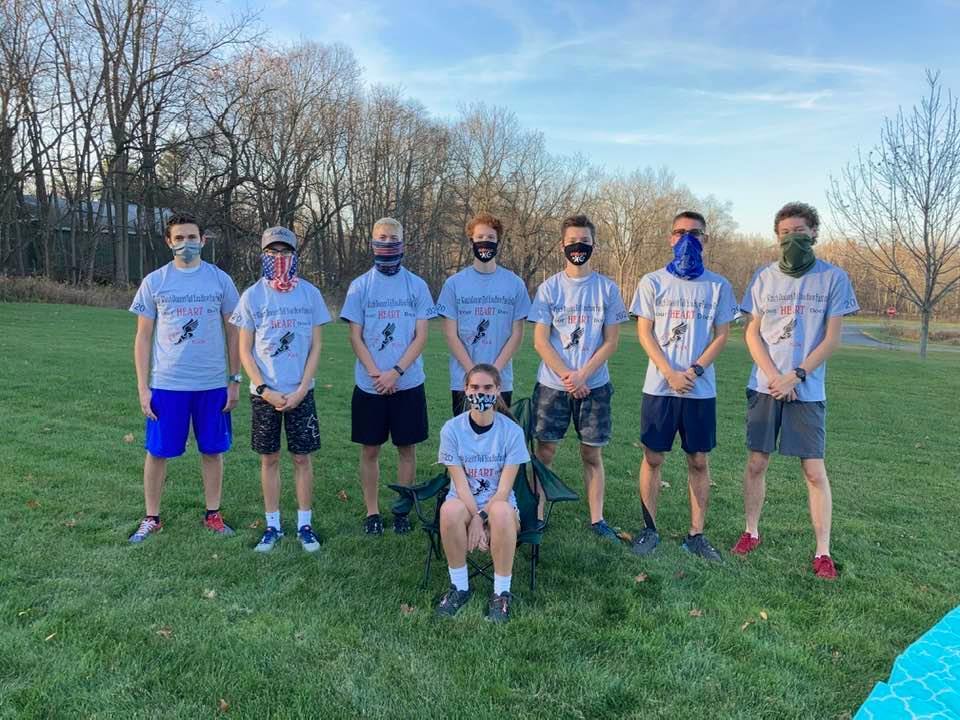 You can access our COVID-19 daily screening form through this link:
https://bit.ly/2EKuG6X
, or through the 'COVID-19 Daily Screening Form' section of our website menu. Thank you for helping to keep our community safe!

Thank you to Herbruck's for this generous donation of lunch boxes and school supplies!